This Year's Table
When I was growing up, I was lucky enough to get to spend A LOT of time with my Granny (my Dad's Mom.) She was quite literally THE best Granny there ever was, in my opinion anyway !!
Meals & memories
This dining room table was where we would spend SO much of our time. We would eat all our meals here. She taught me to play cards here and it was where she would drink her Gin and Tonic and have her cigarettes while we would watch shows like Dynasty, Knott's Landing and The Love Boat (it was the late 70's / thru the 80's … things were different then ;))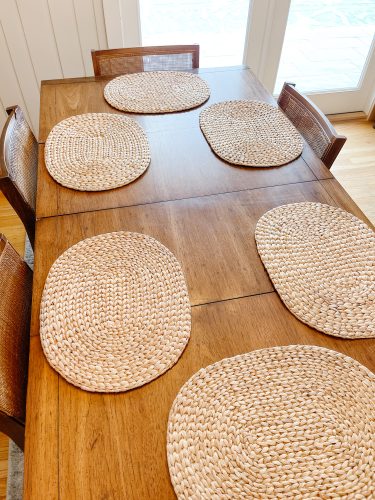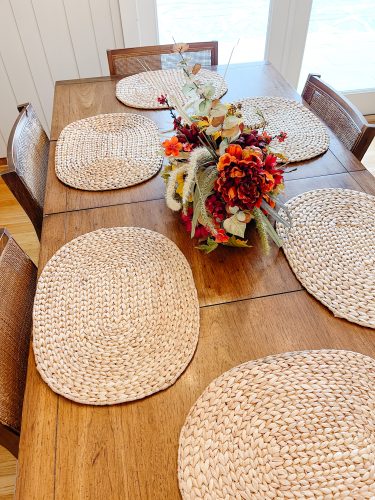 creating memories
This table was a VERY big part of SOOO many of my childhood memories. And if i close my eyes i can still see us sitting there together and can hear her sweet voice.
traditions
When she passed away, this table was something that was VERY important to me. I was beyond thankful to the family that I was able to bring it into our home, and raise our kids around it too! (minus the Gin and Tonic and cigarettes of course :))
keep it in the family
I love it SO much and one day I will spruce her up a bit with a coat or two of paint. But for now I'm going to keep enjoying her just as my Granny left her !
It is the only table that we have in our home, so we eat all our meals around her in our dining room. And it makes me SO happy when I can dress her up for each holiday !!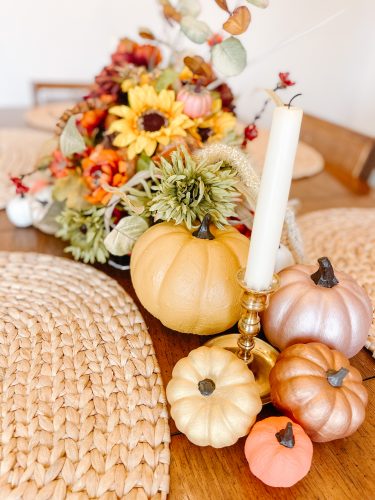 I love these woven placemats as they serve as the perfect staple to almost every table scape I create throughout the year. They truly go with everything! And while they aren't available any longer, you can find similar ones at the same shop HERE !!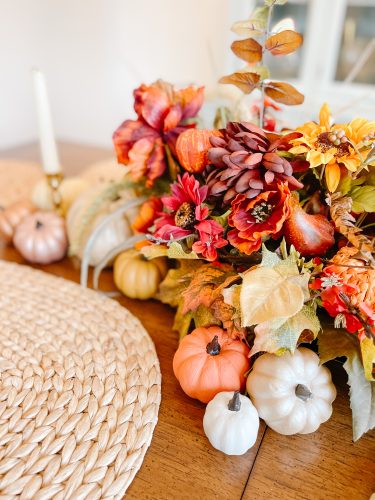 added touches
I've had this Fall centrepiece for 7 or 8 years now and I love it, as it was a great start and I've added to it over the years. It wasn't quite full enough for my taste, so I added a few more faux florals and a couple of pumpkins throughout, securing them in with hot glue !!
faux pumpkins
This year I painted a TON of faux dollar store pumpkins using my fave colours of Fusion Mineral Paint. I love how they coordinate beautifully with my existing Fall decor !! The Metallics really stand out on the table and I am so happy that I added them in this year !!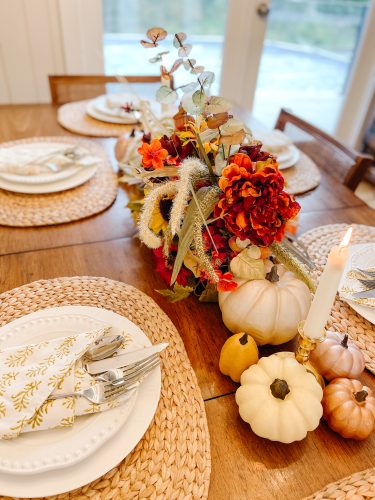 Table settings
A few years back, I started collection some really great white dishes. Also a couple different sizes of plates, bowls and serving pieces too. They are not from the same collection or manufacturers, and I love that ! They compliment each other so well and we aren't afraid to use them often, not just for special occasions !
We are lucky to have been gifted the most beautiful set of cutlery and serving utensils from my parents a few years back and we LOVE using them !!
napkins
I added new printed cloth napkins this year and i am so pleased with how the muted green leaves on them work so well with the centrepiece !
There are SO many ways to fold a cloth (or paper) napkin … Click HERE for some fabulous tutorials on napkins for all occasions !!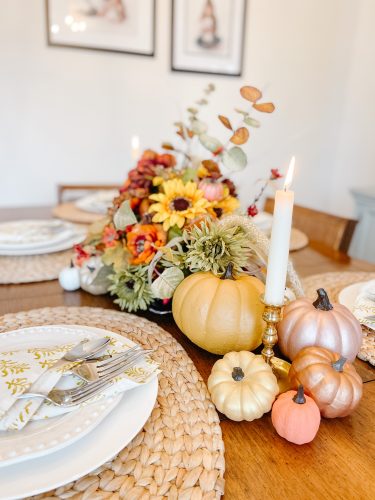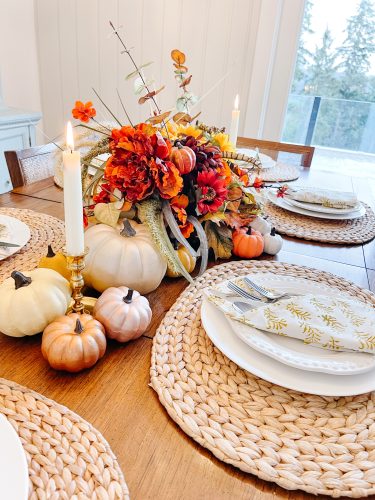 make everyday special
I picked up these fantastic brass candlesticks at a local vintage shop and I swear my parents had the exact the same ones when I was growing up … likely why I was drawn to them !
Creating ambiance
I also light them ALL the time, not just for family get togethers !! I am very much a person that believes we should USE ALL THE THINGS … not always waiting for a holiday or birthday etc … I try to make every day special in some way, and using the good dishes, or cutlery, or candles makes me feel like its all special !!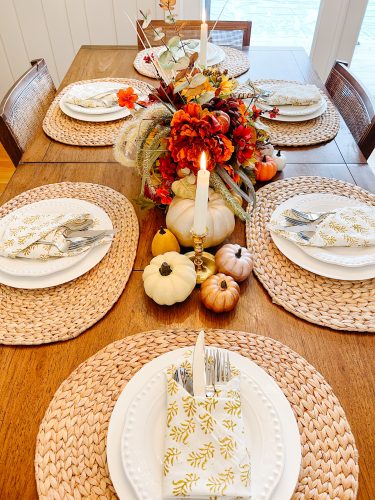 .
Happy thanksgiving
We have a table set for (6) this year … and I just love how it came together ! It doesn't have to be expensive or time consuming to be beautiful … I only added one new item this year, just moving things around and adding more pumpkins in different colors … this took me less than (30) minutes to create !!
AND … the best part ?! There is still LOTS of room for all the food !!!
Happy Thanksgiving friends … I hope you eat well, laugh lots and enjoy your leftovers (this is my fave part) !!
Until Next Time … j. XOX