Facebook LIVE – Layout 43
'Memories' by Jennifer Edwardson
Easy title right … Memories, we all make them every day … but the word Memories has never held such weight as it does when working with these photos …
Most memories are looked back on with so much love and laughter … it's fun to be transported back to that time and place … and then some memories are just hard. They're the ones you know you need to have in a special album … the stories that you want to forget and don't want to forget all at the same time.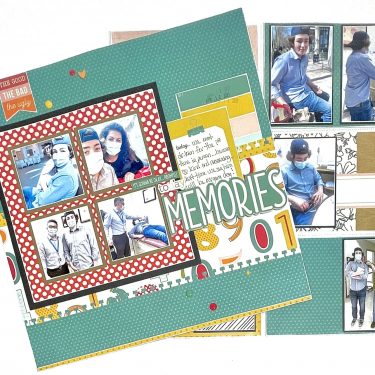 I've said it before, but these memories are the hardest ones for me to look back on. I struggle every time i see pictures of this time … but i also desperately want to get them onto pages and into an album for Alex, for me, for Scott and Emma … for anyone that wants to look back on this time and remember … or even try to catch a glimpse into what we were going through day to day with Alex's health.
Creating these pages and sharing them with all of you has been part of my process … and i will forever be thankful to have this space to share. I know i am SO not the only one that has gone through a challenge and maybe my creating pages for our album and typing my feelings will help one or two of you to do the same with your hard thing …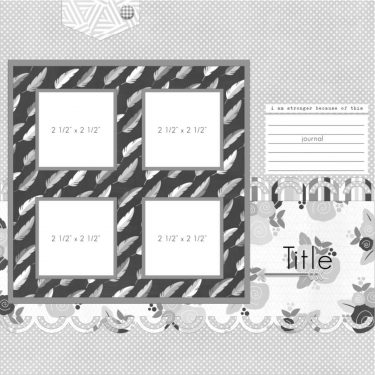 This sketch is a great way to get a cluster of photos from the same day, event or time in your life onto one page with room for your story … the story is as important as the photos … no matter if it is just a snippet until you can write more … or the whole damn thing all at once !! I even created a pocket page in addition to get just a few more pics and words about this day !!
I hope you use this sketch in your own album and then twist it and turn it and use it again … and be sure to include your story. The journaling is SO SO important … and while you may not want to look back on it right away, you for sure will one day !!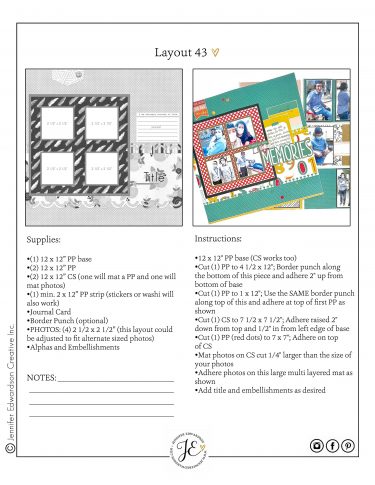 We created this complimentary Scrap Sheet for you with the sketch, supplies required, a color photo of the sample i created and instructions too … AND if you missed watching the LIVE, you can check it out on our Youtube Channel HERE … don't forget to LIKE and SUBSCRIBE !!
Until Next Time … j. XOX