"The Future is Bright" by Kristin Rizzo
When I saw the, "The Future is Bright" Cut File in the Jennifer Edwardson Creative Inc. shop, I immediately knew I had the perfect photo of my pup, Bailey for a page.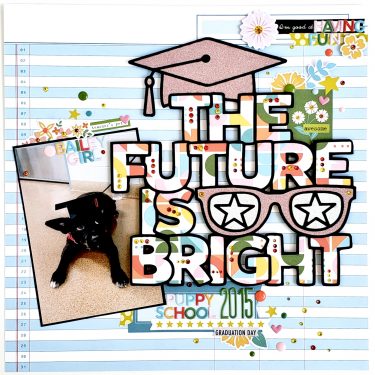 I used the Some Days Creative Kit for this project … and started with the "One More Cup" patterned paper (B-side) as my base for a school vibe.
I cut this Cut File in black AC cardstock to ensure that whatever patterned paper I decided to back the file with would really stand out.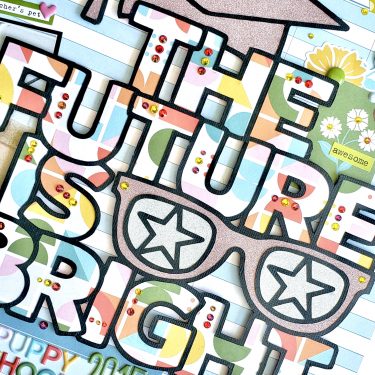 I wanted to use pink for the cap and sunglasses and chose to use AC glitter paper in a bright silver and pink. Art Glitter Dries Clear glue is my go to for backing Cut Files …
… the metal tip gives just the right amount of wet glue for the narrows edges … the PinkFresh "Turning Circles" paper and glitter cardstock were perfect to back the Cut File.
I'm addicted to all things shiny and sparkly and had to use these pretty gems from the Picket Fence Studios … this assortment is called called, 'Fire' and they were just the right finishing touch to the backed Cut File !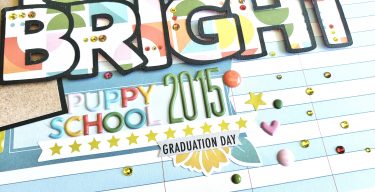 To embellish a little more … i used the PinkFresh "Some Days" flowers from the ephemera pack, two pieces from the "What a Day" cut apart sheet, mini alpha's and enamel dots too !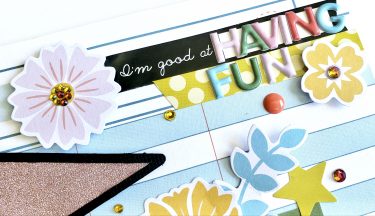 I scattered Picket Fence Studios bling all over the page, stickers from a Mambi Sticks stickers collection I've had since 2014 … i was SO happy i finally got to use them !!
A few Trinket stickers from Bella Blvd 'Star Student' and the heart puffies from the Bella Blvd. Aria Alpha's in the color Peep were the final touches to this fun page …
I love how this layout came together … and hope it inspires you to create using a Jennifer Edwardson Creative Inc. Cut File and Creative Kit too !
Thanks for checking out my first Creative Team post !!
Kristin